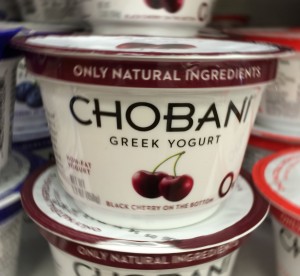 Class action plaintiffs again allege that the labeling on Chobani's Greek yogurt violates FDA regulations and misleads consumers, even though a federal court in California dismissed a similar labeling class action earlier this year.  The New York complaint filed in federal court highlights the various ways plaintiffs scrutinize food and beverage labels in these actions that allege a product is not as healthy or natural as advertised.
In Stoltz et al. v. Chobani (No. 1:14-cv-03827), the purported class action plaintiffs allege that Chobani violates FDA regulations and misleads consumers into thinking its yogurt is healthy even though it is "glorified junk food."  The plaintiffs allege that Chobani accomplishes this by listing "evaporated cane juice" instead of "sugar" in its list of ingredients, by featuring "0%" on its label without context, and even by referring to its product as "Greek."
"Evaporated Cane Juice" or "Sugar"
The plaintiffs allege that Chobani wrongfully lists "evaporated cane juice" rather than sugar as an ingredient.  This allegation is not novel, and as with similar claims in prior lawsuits, these plaintiffs contend that evaporated cane juice is not the "common or usual name."  Therefore, the plaintiffs contend, Chobani mislabels its yogurt in violation of the Food, Drug & Cosmetic Act.  Plaintiffs argue that Chobani "should say they sweeten their products with plain old sugar."
To support these claims, plaintiffs cite to the FDA's draft guidance wherein the agency stated that referring to sweeteners as "evaporated cane juice" is misleading.  However the agency has yet to issue formal guidance on the matter, having just closed the public comment period in May.  Chobani may argue, among other defenses, that the court should defer to the FDA and dismiss these claims under the doctrine of primary jurisdiction.  We have previously written about other plaintiffs' errant reliance on this draft guidance, and about the split in whether courts will defer to the FDA's regulation in this context.
In February, Chobani defeated similar class action allegations, but that victory does not necessarily mean the yogurt manufacturer will enjoy similar success here.  In the appropriately-named Kane et al. v. Chobani (No. 5:12-cv-02425) the U.S. District Court for the Northern District of California—the plaintiff-friendly "food court"—dismissed claims alleging that Chobani mislead its customers by listing "evaporated cane juice" instead of "sugar" as an ingredient.  However, the court emphasized that the plaintiffs' pleadings failed to adequately allege reliance despite multiple opportunities to do so.  Should the court here find that these pleadings are not similarly flawed, it would decide any dispositive motions on different merits.
"0%" What?
These plaintiffs also allege that Chobani misleads consumers by prominently featuring "0%" on its labels without saying to what "0%" refers.  In actuality, this figure refers to the percentage of milk fat in the yogurt.  However the plaintiffs here allege that the yogurt maker intentionally showcases "0%" without context in order to "piggy-back" on the zero calorie marketing efforts of diet products such as Coke Zero and Pepsi Max, which contain zero calories.  The same plaintiffs simultaneously filed suit against Fage (Stoltz et al. v. Fage [No. 1:14-cv-03826]), one of Chobani's competitors, with similar "0%" allegations.
Chobani Is Not "Greek" Enough
Not only do plaintiffs allege that Chobani mislabels its yogurt with "evaporated cane juice" and "0%" but they also contend that Chobani's Greek yogurt is not even "Greek."  Unconvinced by Chobani's website explanation of the manufacturing process and qualities of a Greek yogurt, the plaintiffs charge that "Chobani" is derived from the Turkish language, its founder and CEO lives and opened his yogurt plant in New York.  Moreover, they allege that Chobani's yogurt is not made in Greece and is not made by Greek nationals.
These suits demonstrate that plaintiffs' attorneys continue to scrutinize food labels and file class actions alleging that a multitude of terms violate FDA regulations and mislead consumers.  Food and beverage manufacturers need to carefully ensure their labels comply with FDA regulations.  These manufacturers should scrutinize their labels to ensure that a "reasonable consumer" will not be misled, and that all claims on the packaging are defensible.  Regardless of whether the labels include "evaporated cane juice," "all natural," or other similar content, plaintiffs will latch on to any errors or omissions.  The same holds true when marketing through social media like Facebook and Twitter because even seemingly innocuous posts may serve fodder for plaintiffs when the posts are about these commonly-litigated issues.