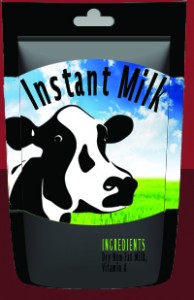 We often associate food recalls with harmful and contaminated products but manufacturers actually issue recalls for a variety of reasons.  Companies sometimes issue recalls because of suspected, but not confirmed, contamination or other quality control issues.  Other times, they issue recalls because a regulatory agency disapproves of certain ingredients.  When recalls occur without confirmed contamination, food companies and their insurers often debate whether the recalled item suffers "property damage" as defined by the policy.
Consider, for instance, the recent decision in Netherlands Ins. Co. v. Main St. Ingredients, LLC, 2013 U.S. Dist. LEXIS 2685 (D. Minn. Jan. 8, 2013).  In 2007, Main Street Ingredients ("MSI") purchased instant milk from Plainview Milk Products Cooperative ("Plainview") and resold it to Malt-O-Meal ("MOM") for incorporation into MOM's instant oatmeal.  The FDA detected unsanitary conditions and salmonella at Plainview's manufacturing facility in 2009, prompting Plainview's recall of products dating back to 2007.  This forced MOM to recall its instant oatmeal even though no contamination or salmonella were ever detected in the milk supplied by MSI.  MOM sued MSI seeking damages related to its oatmeal recall including recovery for destroyed inventory, credits and fees to customers, and recall freight.
MSI tendered the complaint to its liability insurer, Netherlands, which agreed to defend subject to a reservation of rights.  After the underlying claim settled for $1.4 million, Netherlands filed a declaratory judgment action against MSI.
On cross-motions for summary judgment, the court ruled in favor of MSI, finding that MOM's complaint alleged covered property damage because the inability to lawfully distribute products due to an FDA regulation constitutes an "impairment of function and value."  The court also ruled that the "your product," "product recall," and "impaired property" exclusions did not apply.
The Inability to Distribute Adulterated Oatmeal Constitutes Property Damage
The Minnesota district court determined that MOM's inability to lawfully distribute its instant oatmeal constituted "property damage" under MSI's policy.  In so doing, the court relied on Minnesota precedent in General Mills, Inc. v. Gold Medal Ins. Co., 622 N.W.2d 147, 152 (Minn. Ct. App. 2001) (as applied in the CGL context in United Sugars Corp. v. St. Paul Fire & Marine Ins. Co., No. A06-1933, 2007 WL 1816412 (Minn. Ct. App. June 26, 2007)).  Quoting the state appellate court's interpretation of a first party policy, the Netherlands court held that the inability "to lawfully distribute . . . products because of FDA regulations" constitutes "an impairment of function and value sufficient to support a finding of physical damage."
The court rejected Netherlands' argument that no property damage existed because the instant milk never actually tested positive for salmonella in the underlying action.  Netherlands based their unsuccessful argument on Source Food Technology, Inc. v. United States Fidelity & Guaranty Co., 465 F.3d 834 (8th Cir. 2006).  In Source Food, the Eighth Circuit Court held that the insured's inability to import its beef due to a U.S.D.A. embargo on Canadian beef did not amount to "direct physical loss," and therefore related damages fell outside of business interruption coverage.  The Netherlands court distinguished its facts from those in Source Food.  It reasoned that the policy language in Source Food more restrictively required "direct physical loss" instead of "physical injury," and that the insured in Source Food conceded the beef was not contaminated whereas here the oatmeal included instant milk manufactured in unsanitary conditions.
Netherlands Must Pay for Consequential Damages
Importantly, the court also ruled that Netherlands had to pay for consequential damages resulting from the recall.  The court required Netherlands to indemnify MSI for the third party property damage to the instant oatmeal as well as damages MSI must pay because of the property damage—i.e., MOM's recall costs.  In so ruling, the court stated that the CGL policy needed to contain specific language in order to exclude consequential damages from a covered occurrence.
"Your Product," "Product Recall," and "Impaired Property" Exclusions Do Not Apply
The court rejected application of the "your product" exclusion because MSI sought indemnity for damage to MOM's instant oatmeal rather than its own instant milk.  Similarly, the court ruled that the product recall exclusion did not apply because MSI sought indemnity for damages that arose from the recall of MOM's oatmeal rather the recall of its own product.  Finally, the court held that the "impaired property" exclusion did not apply because the adulterated milk "could not possibly be removed . . . since the ingredients were inextricably blended together."
Conclusion
What constitutes "property damage" under a liability policy can be a complex determination because manufacturers sometimes recall and subsequently destroy their products even when contamination or actual damage is unconfirmed.  The ruling in Netherlands reflects that court's broad interpretation of the "property damage" definition and gives further credence to the "impaired function and value" test adopted in Minnesota.  Minnesota's particularly developed case law addressing this is instructive of how other jurisdictions may rule on these coverage issues.