It seems the latest health craze always involves "free" food; fat-free, sugar-free, preservative-free, and now gluten-free. PepsiCo's Frito-Lay North America recently launched an initiative to label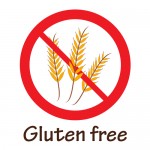 some of their products as "gluten-free." The proposal includes labeling products with a "GF" symbol or making a statement on the packaging. Not all gluten will be removed from snacks like Lay's potato chips and Frito's corn chips, however the company still intends to comply with the FDA's 2007 Proposed Rules for Gluten Free Labeling. Under these guidelines, manufacturers can label foods as gluten-free if they contain less than 20 parts per million gluten. Other companies like Domino's Pizza have followed the trend, recently adding a gluten-free pizza crust option to their menu. Like the Frito-Lay products, Domino's new crust is not entirely free from gluten.
The Frito-Lay gluten-free initiative was undertaken with the support of both the Celiac Disease Foundation (CDF) and the National Foundation on Celiac Awareness (NFCA). These organizations maintain that increased gluten-free labeling will make it easier for those suffering from celiac disease to avoid injury due to the ingestion of gluten. While companies could gain business from celiacs and health-conscious consumers by labeling their products as gluten-free, the label also poses certain risks. Domino's markets its new pizza crust as gluten-free, yet also discourages those with celiac disease or severe gluten sensitivity from eating the pizza.
If "gluten-free" products still have the potential to harm those with high gluten sensitivity, how informative is the gluten-free label and what responsibility do companies have to their customers? Under the Food Allergen Labeling and Consumer Protection Act of 2004, food manufacturers are required to label any products that contain "major food allergens" like wheat. So while companies may stamp their products with the gluten-free symbol, a more detailed reading of the label will show that traces of the allergen are still present. Although the gluten-free label has the potential to mislead consumers, it appears that the gluten-free community supports labeling initiatives. A Utah gluten-free bakery owner recently filed a lawsuit against Utah Senator Orrin Hatch in U.S. District Court in Salt Lake City, claiming that Senator Hatch has failed to get FDA funding that would allow for gluten-free labeling regulations. The bakery owner thinks increased labeling will help those suffering from celiac disease. The lawsuit will probably not get far, but it highlights the national label debate. In the future, there will probably be a shift towards more gluten-free labels whether or not the food products themselves radically change.